PROMPTS SUBMISSIONS ARE NOW CLOSED
ETA @ ~ 2:00 PM DEC 29: PROMPTS SUBMISSIONS CLOSE IN 10 HOURS
Please note that this entry will remain open for comments for questions or concerns about the battle.
We here at
thefuturequeen
think it's high time Gwen got some loving so we're going to run the
Gwen Battle Winter 2009
, the first ever prompt battle about our sweetest Gwen.
In brief:
A prompt battle is a big fanfest of creation based around prompts. This one's focussed on Gwen and anything goes: fics, icons, wallpapers, fanmixes, fanvids, drawings, paintings, songs, poems,
anything
. Let your creativity go wild!
For the next three days, we ask you to
submit as many prompts in the comments of this post
as you'd like! Words, lyrics, poems, images, concepts... Anything that you want to see something done about Gwen with, comment with it! There's no limit to how many prompts you can submit and in fact, the more the better! Any and all pairings and character relationships are welcome XD!
Sample Prompts:
Gen, "the lazy days of summer time" (
Salty Air
by Bitter:Sweet)
Gwen & Tom, applesauce
Gwen goes to Gaius seeking advice about something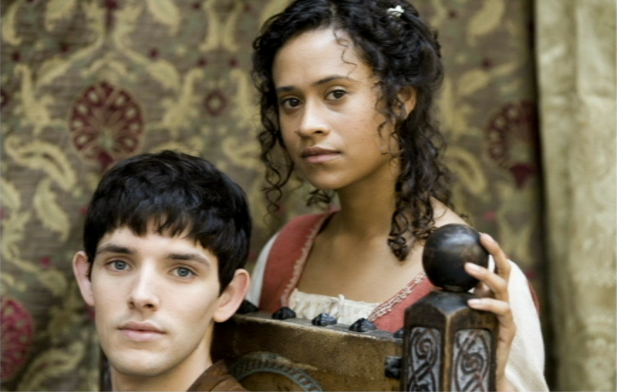 __
Rules For the Battle?
Unfortunately, there are a few:
Your entry must center around Gwen.
For organization's sake, each day we'll post a Submissions Entry and we ask that you post your submission in a comment to that post.

If you prefer to link back to your own journal, that's perfectly fine.
Please label your work appropriately. That means the prompt, characters/pairings and rating should be included in the subject line of your comment.
Graphics artists: Please comment with a thumbnail of your piece (if it's large) or a max of 3 teaser icons with a link to your main post.
Fic Writers: If the length of your fic exceeds the comment-limit, please link us to your work posted on your journal, rather than using several comments to tell your story.
Other Submissions (this includes fanvids and fanmixes): Please link us to your work posted on your own journal.
Please note! You are free to also post your submissions elsewhere but we ask that you please:

First post your entries to the Battle in a comment to that day's Submissions Post
Link back to the Battle in your outside postings
Please note!! Do not post your submissions to the battle on thefuturequeen except within the Submissions Posts. From today onwards, any posts to thefuturequeen that are battle submissions will be given a notification and then deleted by a mod. We have the Submissions Posts in order to keep this community easily accessable to those who want to post items outside the battle. Thank you.

Submissions should all be new work inspired by the prompts you've claimed. And hopefully it goes without saying that all work is your own.
Those looking to receive a Participation Banner must complete all the prompts they signed up for in order to qualify.
Have fun, enjoy each other's creations and make sure to comment on things you like!
Please note:
Rules updated January 10, 11:05pm PST.
__
Battle Timeline
December 27 thru December 29 - We're accepting your promptsDecember 31 thru January 7 - Prompts are now open to claim. Claim here!. We're limiting claims to 2 per prompt per type of participation (ie: 2 fic claims, 2 graphics claims). However, there is the potential to get an extra claim if the prompt you really want is already fully taken. More details on that below.
January 8 thru February 8
- The battle is on!
__
Bonus Claim
So there's a claim that totally captures your imagination, but blast it! 2 people have already snagged it ahead of you. Woe. But hope is not lost! If you help us out by promoting the Battle somewhere, link us to your promotion and you get one bonus claim. Feel free to use the banner above for promotion :)!
__
I Participated in the Battle! Do I get something?
Yes, indeedie! If you want a shiny mini!banner proclaiming your awesomesauce participation, we want to appease you! Soon we'll be posting an entry to which you can respond with an image of your choice that we'll turn into a fantasmic banner for you.
__
Questions, Comments, Concerns?
Something else on your mind that wasn't answered above? Comment below with your concern, or else feel free to contact either
kepp0xy
or
crazy_in_lost
separately.
[ Battle Navigation ]
Masterlist of Claims: By Fanart Prompts Claimed
Masterlist of Claims: By Fanfic Prompts Claimed
Masterlist of Claims: By Other Prompts Claimed
Masterlist of Claims: by Participant
Original Claiming Post [CLOSED]
That's all!
Start submitting your prompts here!
:D!
Current Mood:
optimistic